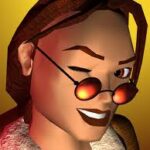 CopperCandyUK
@angeljs
Always on full alert, Lara is awakened suddenly by the sound of a distant vehicle. She looks at the position of the moon and stars and extrapolates how long she has been asleep – around 4 hours.
There can't be that many people driving through the desert at 3am. Lara bolts upright and takes out her night vision binoculars, anxiously scanning the horizon. As the sound grows closer, Lara tries to guess in which direction the vehicle is. Eventually, she sees a fast-moving jeep round a large rock off the main road.
Coincidence? Lara doubted it. She scrambles into the front seat to drive away, but the engine, never the most reliable, splutters ineffectively. The vehicle won't start. And the jeep is getting closer all the time.
Lara jumps from the vehicle, grabbing her backpack and making sure she has her pistols and plenty of ammo. She runs to the nearest cave entrance to hide, knowing whomever was coming would guess where she was, but also knowing she has no choice.
If she's very lucky, the approaching people will be random tourists, not enemies. But Lara never was very lucky…
Please do not contact me for game help, that's what our forums are for. 😎