11/12/2006 at 9:09 am
#5601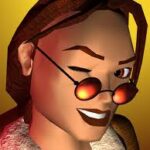 CopperCandyUK
@angeljs
New scene:
Lara is on the road again. She smiles as she remembers her reunion with the old man. In her pocket is a rough map and some names. The map will lead her to a casino in the desert and the names belong to the people that own it….the casino is a front to hide their real business….Illegal Tomb Raiding!
Most people consider rumours as innacurate information, but Lara listened carefully as Borak told her what he'd heard about the 3 people on the list. 2 men and one woman, never seen together but all thought to be in collusion. No-one could prove that they owned the casino, never mind stole artifacts from tombs and other collectors.
She looks again at the 3 names:
Carlton
Remirez
Jubilee!
Lara is thoughfull once again. Everything has been far too easy! If these people where as secretive as she'd just heard, she shouldn't have been able to get this far so soon.
Lara shakes her head…this conjecture can wait until morning. She pulls over, climbs into the back of her Jeep and crawls beneath the ready sleeping bag.
Please do not contact me for game help, that's what our forums are for. 😎